A facilitator's first training experience should provide a balance between
solid technical skills and effective facilitation tools.
Challenge Course Facilitator Training
Entry level training in facilitation and safety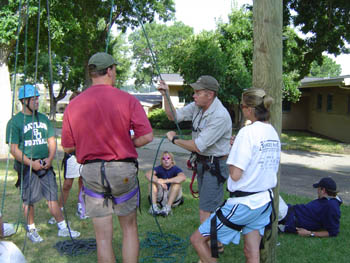 Challenge Course Facilitator Training is a workshop in facilitation unlike any other. With over 35 years of team development, group facilitation and challenge program experience, Tom Leahy provides a solid foundation for the new or growing challenge course facilitator.
Within the realm of experiential and challenge learning, Tom is a master of teaching through experience. Participants in this workshop will be immersed in a group process modeling a finely facilitated program. The experience of participants is used to demonstrate learning styles, the struggles of team development and the complexity of challenges that face individuals within this setting. Their experience will allow for wonderful discoveries of how teams work and expose the group to a number of models developed by Tom for team diagnostics, decision making, problems solving, developing voice and understanding the complexity of choice. This workshop will allow participants to challenge their beliefs, their view of the world and how they see others, allowing for both personal and professional growth in a safe setting.
On the technical side, participants will receive a finely balanced training in safety and technical operations for both low and high elements. The training style used will insure that each person approaches mastery of a set of skills that will prepare them to work on a variety of challenge courses.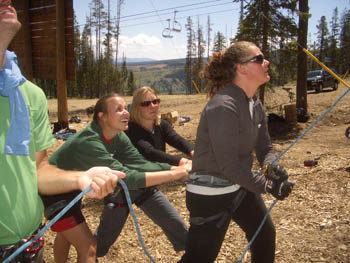 Facilitation Skills include:
Creating emotionally safe environments
Tools for communication, problem solving and decision making
Development of voice for individuals and group process
Responsible choice and increasing self-efficacy
Individual and team goal setting
Tools for increasing team skills effectiveness
Technical and Safety Skills include:
Simple physics and the elements of effective belay
High element setup and operations
Low element safety and spotting
Safety equipment knowledge and applications
Facilitator fall protection
Appropriate rescues for the new facilitator
40 Hours
Trainer: Tom Leahy
Workshop Fee: $595 (does not include meals or lodging)
Early Bird: $495 (with 30-day advanced purchase)
"I now feel much more prepared to deal with the physical and emotional difficulties and opportunities that exist both on and off a challenge course." —J.P., Colorado
"Physically, cognitively and emotionally challenging and rewarding." —L.S., Wyoming
"This workshop will not only teach you technical skills and new ways to facilitate but it will boost your self-esteem and make you think about the way you approach choice." —W.H., Canada
"I will not only benefit from this workshop professionally, but also as a husband, father, grandfather, son, brother, friend and person." —R.P., Colorado